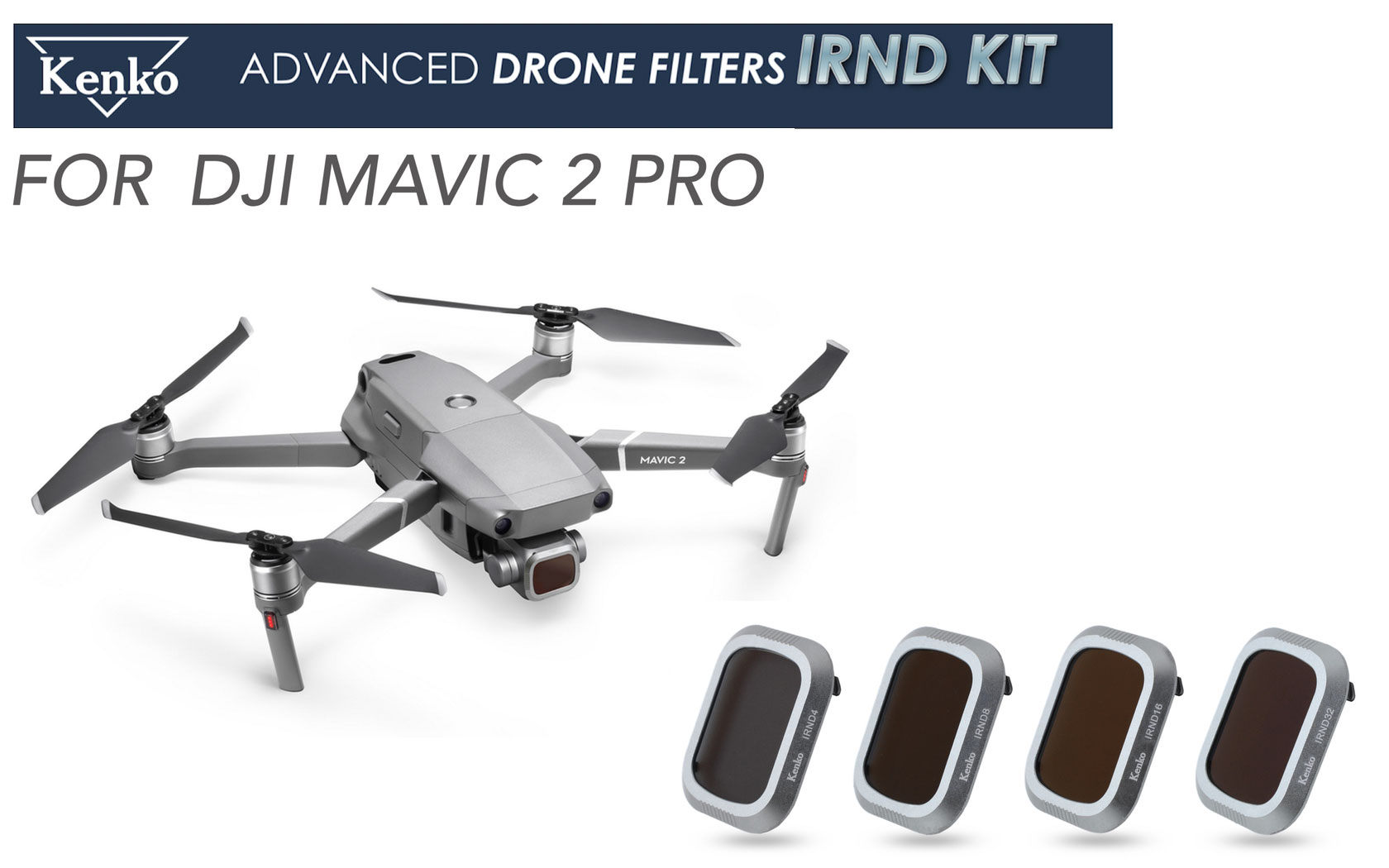 Exclusively designed for DJI Mavic 2 Pro, this Advanced Drone Filters IRND kit incorporates ACCU-ND technology for excellent color balance, infrared contamination free images, smooth motion and optimal exposure. Their anti-reflective coating, blended with a water repellent layer, ensure easy cleaning and maintenance. The just-fit frame with snap-joint mount secures the filter on the camera, and the all-weather protective case will allow using these filters in different shooting conditions.
Along with the importance of ND filters in extreme light conditions, Kenko Advanced Drone Filters Kit becomes fundamental especially when using DJI Mavic 2 Pro drone models, that incorporate high-quality Hasselblad optics.
Just imagine how frustrating it would be if the footage shot with a high-quality Hasselblad camera were screwed, due to jarring motion caused by incorrect shutter speed or overexposure.
For all those creators who are serious about high quality aerial shooting.
Why IRND filters are so important
SHUTTER SPEED
For natural and smooth looking motion In video shooting, it is fundamental to keep the shutter speed fitting the frame rate setting, that is, to keep it equal to double the frame rate for optimal results. This is because, unlike still photography, an excessively fast shutter speed may create a jarring effect and produce afterimages that will not look good at all in the final video.
As you can see from the image below, unlike still image, video clip is made of a sequence of still images. With low shutter speed, each still image will blur but will look smooth in the video sequence. On the contrary, a higher shutter speed will capture the object solid and sharp, but once in a video sequence all objects will appear separated, creating jarring and unnatural looking motion.

By using IRND filters, the shutter speed can be adjusted to the proper value to get that natural and smooth looking motion requested in video footages, as shown in the image below.

APERTURE
For optimal exposure
Drones are mostly used outdoors in day time, high-lit environments. Since DJI Mavic 2 Pro is equipped with a camera module that has an adjustable aperture of f/2.8 to f/11, and ISO setting should be set at the minimum level of ISO100 for image quality's sake, IRND filters are strongly suggested as a necessary ad-on accessory to control the shutter speed and achieve optimal exposure. The image below shows the difference between an overexposed video footage and a video shot with appropriate shutter speed setting during a sunny day in a snowy mountain area.

ACCURATE NEUTRALITY
High-quality IRND filters are required to be extremely and accurately neutral to prevent color shift or IR pollution from affecting the final image.
Accurate neutrality of Kenko IRND filters is achieved by adopting ACCU-ND Technology that is exclusively developed for DSLR camera filters. ACCU-ND Technology provides constant and fine-adjusted light density within a wide spectrum range, including the infrared area (400nm-1000nm).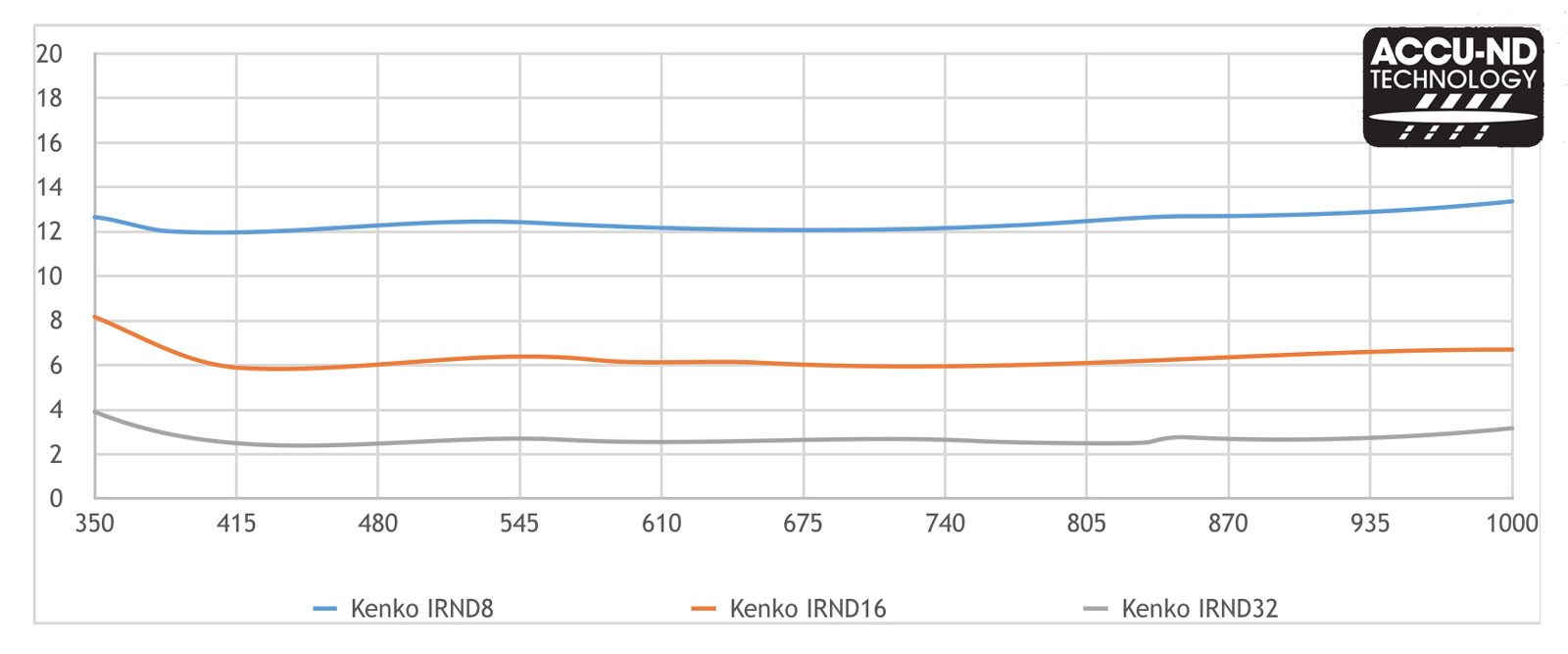 JUST-FIT FRAME and SNAP-JOINT MOUNT


4 in 1 kit in ALL-WEATHER PROTECTIVE CASE
Kenko Advanced Drone Filters IRND kit contains 4 filters of different density to choose from depending on the light conditions at the shooting location. Choosing the right density value will allow fine adjustments of the camera setting according to the different light conditions, thus avoiding diffraction and obtaining optimal exposure of the image.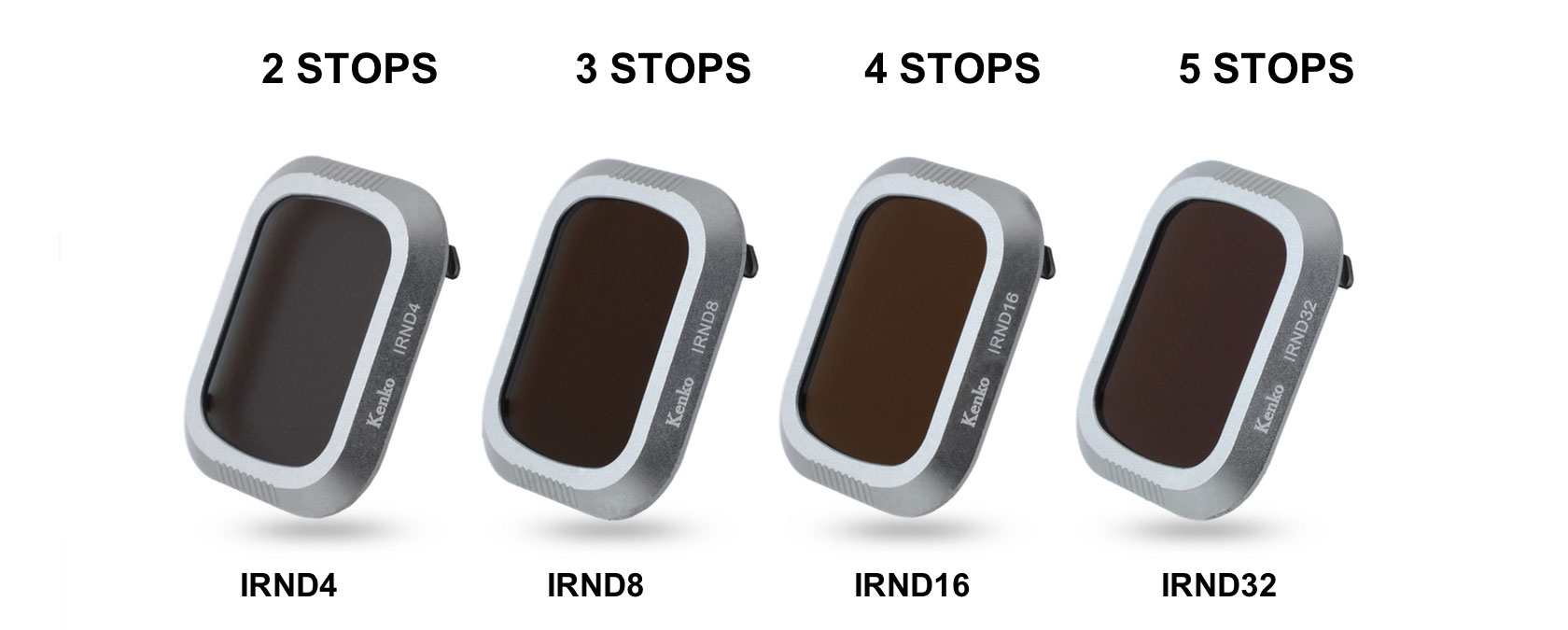 Also, for better and convenient utilization in outdoor environments, Kenko Advanced Filters IRND kit comes within an all-weather case that will keep filters all together and protect them from moisture and dust, rain or snow.
EASY TO MAINTAIN
Anti-reflection multi-layer coating of Kenko IRND filters is blended with a water-repellent layer. This ensures protection from fingerprints, smudges, dust, thus making filters easy to clean and maintain in ready-to-use conditions.

How to choose the right IRND filter
The table below can serve as a basic guide to choose the right IRND filter.
The DJI Mavic 2 Pro is equipped with a camera module that has an adjustable aperture of f/2.8 to f/11. When shooting at f/2.8 in well-lit environments, like a bright sunny day, IRND16 or IRND32 filter is commonly suggested to be attached by default in order to lower the shutter speed up to 1/125s or 1/60s depending on what fps mode you shoot with.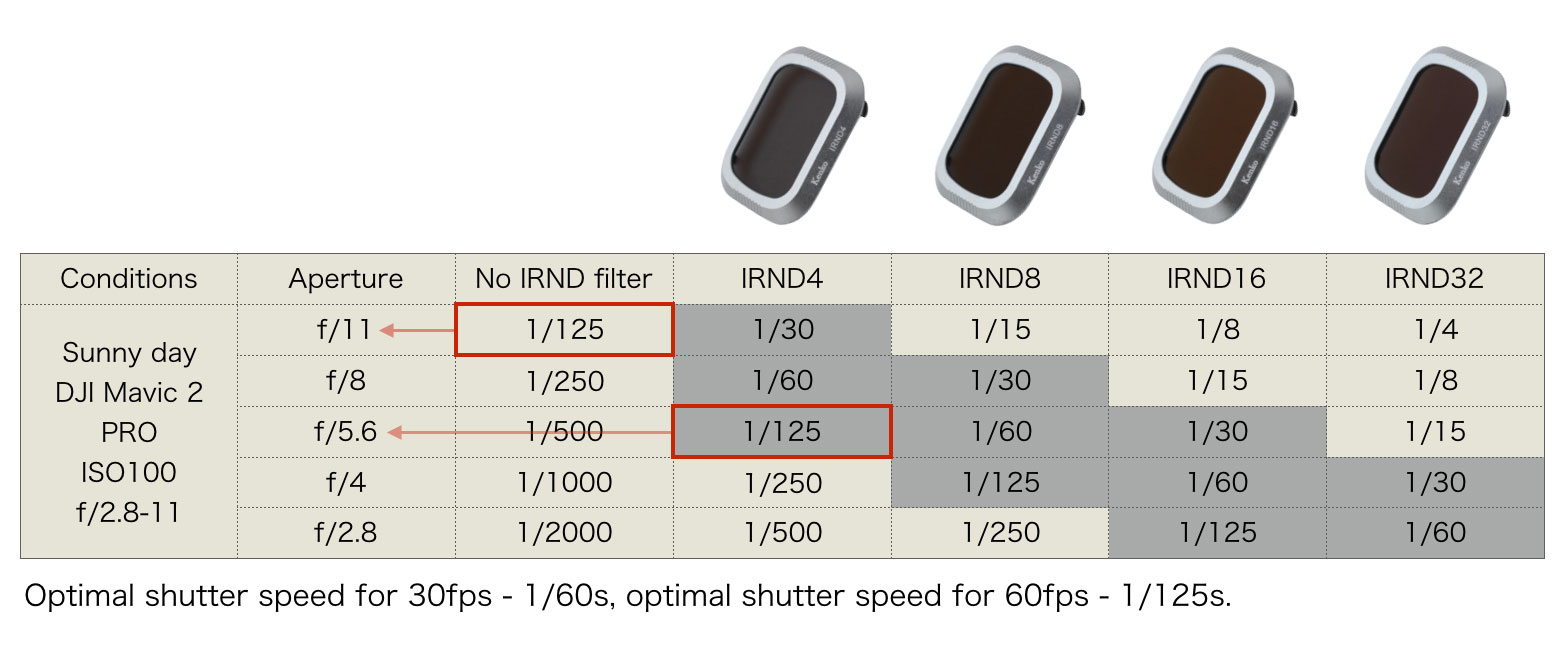 In case of drones equipped with changeable aperture camera modules, when shooting video it is recommended to use aperture stepped 2-3 stops up from wide-open position. In high-lit environments above the ground and with related to fps mode shutter speed, you would need IRND filters to obtain the optimal aperture. For example, at a shutter speed set at 1/125s you will get f/11. You will then need to attach IRND4 to step down to f/5.6, or IRND8 to step down to f/4. Or, with the aperture set at f/5.6 and the frame rate at 60 fps, you will need IRND4 filter to slow shutter speed from 1/500 to 1/125.