About KARITES
The name KARITES comes from the "Tree Graces" (Charites), ancient Greek mythology figures who embodied and protected the principles of absolute beauty, elegance and perfection.
Inspired by their model, KARITES' overwhelming performance in "strength", "clearness" and "easy application" proudly shows and aims to offer the same "divine" protection.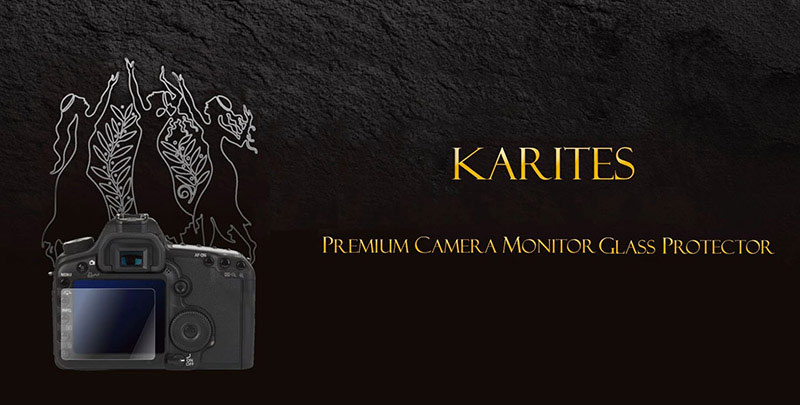 Highly Strong and Transparent Optical Glass
Despite being only 0.21mm thin, KARITES glass protector can reach the strength of a more than 9H hardness, in order to strongly protect your camera monitor from any accidental shock and scratches.
In addition, by applying an AR (anti-reflection) coating for light reflection reduction, and with a more than 95.0% high transmission rate, KARITES glass protector guarantees "high visibility" also in outdoor environments.
Japanese technology and processing for the finest touching sensation
For KARITES, too, Kenko aims to pursue the highest and all made in Japan quality by performing all the producing processes, from glass cutting to polishing, from "Anti-stain/anti-fingerprint coating" to "Round edge processing", up to the final packaging process.
Particularly, Japanese technology and processing have been employed to make KARITES glass protector comfortably usable thanks to a very smooth touch feeling during every handling operation.
Ultimately easy to apply and innovative "handle seals"
By adopting newly invented "handle seals", KARITES glass protector makes its application very smooth, easy and possible in three quick steps: "placing", "pressing" and "peeling".
PIC
How to use
Before applying the screen protector, please clean the camera screen to remove eventual dirt or dust.
Peel off the underside film of the protector by holding the knob in the lower right corner.
Step 1 – Placing
Hold both the "handle seals" of Escorte screen protector and position it precisely, then place it on the camera monitor.
Step 2 – Pressing
After placing the screen protector on the camera screen, press on "push" to be sure it is properly pasted and slightly press all over the surface to make sure it adheres homogeneously.
Step 3 – Peeling
After pasting the screen protector, hold the "handle seals" and complete the application by peeling off the upper film.

Note: Protective film for upper side panel monitor not included.
---
Contents
Glass protector
Cleaning paper - 1 pc
Lens cleaner - 1 pc
Protective film for upper side panel monitor (some models only)
---
Line up
Supported Camera Model
Protector Model
Dimensions (WxH), mm
JAN Code
Canon EOS 5D Mark IV / 5D Mark III
KKG-CEOS5DM4

70.9x48.6 (*45.5x18.3)

4961607878378
Canon EOS 7D Mark II
KKG-CEOS7DM2
67.1x46.0 (*)
4961607878484
Canon EOS 6D
KKG-CEOS6D
68.6x47.6 (*)
4961607878828
Canon EOS 80D / 70D
KKG-CEOS80D
67.2x45.8 (*39.8x20.0)
4961607878385
Canon EOS M6 / PowerShot G9X MarkII / G7X MarkII/G5X
KKG-CEOSM6
76.5x51.1
4961607878835
Canon EOS M5
KKG-CEOSM5
78.6x52.7
4961607878392
Nikon D810
KKG-ND810
66.8x50.7 (*)
4961607878842
Nikon D750
KKG-ND750
66.8x50.7
(*39.2x17.2)
4961607878408
Nikon D500
KKG-ND500
66.8x50.7 (*44.5x22.5)
4961607878415
Nikon D7200 / D7100
KKG-ND7200
66.8x50.7 (*)
4961607878491
Nikon D5600 / D5500
KKG-ND5600
76.2x58.6
4961607878859
Pentax K-1
KKG-PEK1
76.3x58.6
4961607878873
Pentax KP / K-70 / K-S2
KKG-PEKP
63.2x42.1
4961607878538
Sony alpha 7SII / 7RII / 7II
KKG-SA7M2
70.5x51.8
4961607878866
Sony CyberShot RX100V / RX100 / II / III / RX1R II / RX1R / RX1
KKG-SCSRX100V
70.5x51.8
4961607878514
Fujifilm X-Pro2
KKG-FXPRO2
64.4x44.3
4961607878521
Fujifilm X-T2
KKG-FXT2
76.8x50.0
4961607878422
Fujifilm X-T20
KKG-FXT20
69.6x44.6
4961607878477
Olympus E-PL8 / E-PL7 / E-M10 / E-M1
KKG-OEPL8
75.7x52.0
4961607878507
* Protective film for upper side panel monitor included.