Kenko TELEPLUS PRO 300 1.4x DGX is a teleconverter designed to make images more impressive by turning your master lens into a tele lens and capturing the object more close.
By installing it between the lens and the camera body, Kenko TELEPLUS PRO 300 1.4x DGX increases the effective focal length of your lens by 1.4x.
Precisely made in Japan and compatible with a wide range of genuine cameras and lenses, it is particularly helpful for those professional photographers as well as amateurs who may need a tele lens but feel no reason to purchase a new expensive one due to low frequency of use.
An optional accessory to bring your photos on a new level of creativity in the most convenient way.
Note: Kenko TELEPLUS PRO300 DGX teleconverters are compatible with only proprietary lenses (Nikon and Canon) and Tokina lenses (except Tokina AT-X 70-200 F4 FX VCM-S and opera 50mm F1.4 FF Nikon mount). Other manufacturers' lens and camera models, or side-party adapters, are not supported.
---
Precautions
Turn off optical correction functions, Vibration Reduction (VR) or Image Stabilizer (IS) functions, focus aid assistance and AF micro adjustment functions before using Kenko TELEPLUS teleconverter.
Proper work and accuracy of AF mode only when the lens has a resulting aperture* of f/5.6 or faster. If the resulting aperture is greater than f/5.6 manual focus is strongly recommended.
* resulting aperture = wide open aperture value of the master lens x magnification of the lens converter.
Better to know
Tele converters can provide plenty of advantages but, like other optical add-on accessories, tends to:
Shallow the depth of field.
Make your optical system darker as they increase the aperture equivalent value.
Affect the sharpness of the image (mostly large magnification converters).
Storage
When not in use, please remove Kenko TELEPLUS teleconverter from your camera and lens and store it separately.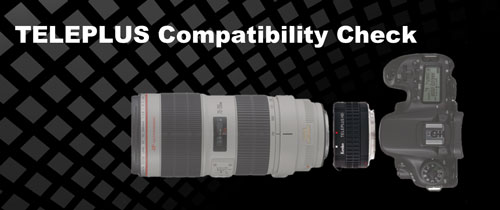 Compatibility
Kenko TELEPLUS teleconverters are compatible with a wide range of Nikon and Canon DSLR interchangeable lenses, but there are some exceptions. Compatibility can be easily checked with the checking tool.