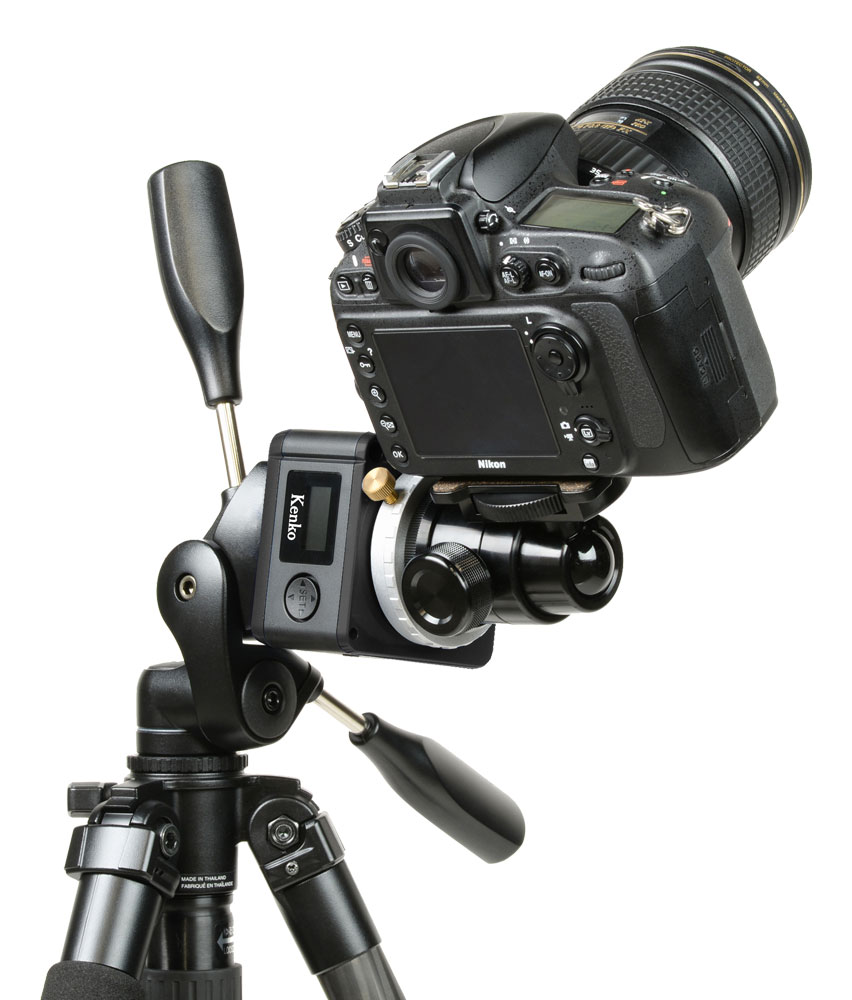 The Kenko SKYMEMO mini is a tracking platform that has two modes: an equatorial mount mode for astronomical photography and a rotation mode that is convenient for time-lapse photography. Equipment can be loaded up to 5 kg. Although it is a compact and lightweight body, it can operate for up to 20 hours though with 4 AA batteries. It enables full-scale astronomical and time-lapse photography even with a general tripod. Also equipped with an LCD monitor, making it easy to check the mode status.
Compact tracking platform for shooting starscape and time-lapse photography.
Lightweight and compact design.
Simple control menu via LCD display.
Multiple functions.
Up to 20 hours run-time on 4 AA sized batteries (not included).
Main Features
Installed multi function for shooting
The Kenko SKYMEMO mini is an electric pan head equipped with a portable equatorial mount mode and a rotation mode for time lapse photography, and maintains a compact body of 84x86x65 mm (excluding protrusions) and is lightweight at 630g. With this one unit, you can not only shoot time-lapse movies during the day, but you can also shoot starscape photos that track celestial bodies. The square design has less bulge, decreasing carry space.
Battery supply from 4 AA batteries or microUSB port
The Kenko SKYMEMO mini is powered by 4 AA batteries (not included). Additionally, since it has a microUSB port, you can also supply its power from a mobile USB charger (for stable power supply, please set 4 AA batteries even when power is supplied via USB). The maximum operating time is 20 hours with only, but it canrun endlessly when the power is supplied by the USB port.
Equipped with two large and small peepholes for locating the Polaris
Through a large and small peepholes on the bottom of the main body, let you search for the North star so you can easily align the polar axis. Roughly adjust with the large peephole (Φ7mm) first, and then make fine adjustments with the small peephole (Φ4mm).

Align the polar axis with SKYMEMO Pinpoint Wedge (Optional)
By combining the SKYMEMO mini Tracking Platform with our Skymemo Pinpoint Wedge (optional), aligning the polar axis becomes even more accurate and easier.
For more information, please check the News Release for Kenko SKYMEMO Pinpoint Wedge.