The Kenko SKYMEMO Pinpoint Wedge is a 2-axis fine adjustment wedge that can finely adjust the altitude and direction. This wedge is best for astronomical, and macro photography which require detailed equipment settings. It can also be used with field scopes, which normally provide difficulty when determining accurate view ranges through traditional manual methods. It allows the SKYMEMO mini to tilt up to 90 degrees and has 4 individual thumb screws for making minute adjustments to the position of the head. This makes fine-tuning polar alignment of the Kenko SKYMEMO mini much easier. Additionally, it can also be used with our Kenko PRO1S Spotting Scope, and any DSLR or mirrorless cameras.
A fine micro adjustment wedge of angle.
Suitable for use with tracking platform and a spotting scopes.
Arca-Swiss compatible shoe base.
Can be used with heads or mounted directly to a camera.
Ultra lightweight at 250g and supports up to 6kg.
Main Features
Can make fine adjustments up, down, left and right
Bearing Knob
The direction adjustment can be adjusted from a range of +/- 8° (total 16°). 1 turn of knob provides approximately 1.7° movement.
Altitude Adjustment Knob
The altitude adjustment can be adjusted from +/- 10° (total 20°). A single turn of the knob provides approximately 1.7° movement.
Recommended products for use with SKYMEMO Pinpoint Wedge
Kenko SKYMEMO Pinpoint Wedge is useful for the products that require detailed settings for angles and positions. If you put the products such as the Kenko SKYMEMO mini directly on a tripod, it will be needed to use the tripod lever to adjust the position, but in this case it is very difficult to make fine adjustments.
However, you can adjust the position easily by combining the SKYMEMO Pinpoint Wedge.
For example: Kenko SKYMEMO mini, Kenko PRO1S Spotting Scope Series, DSLR cameras, mirrorless cameras and etc.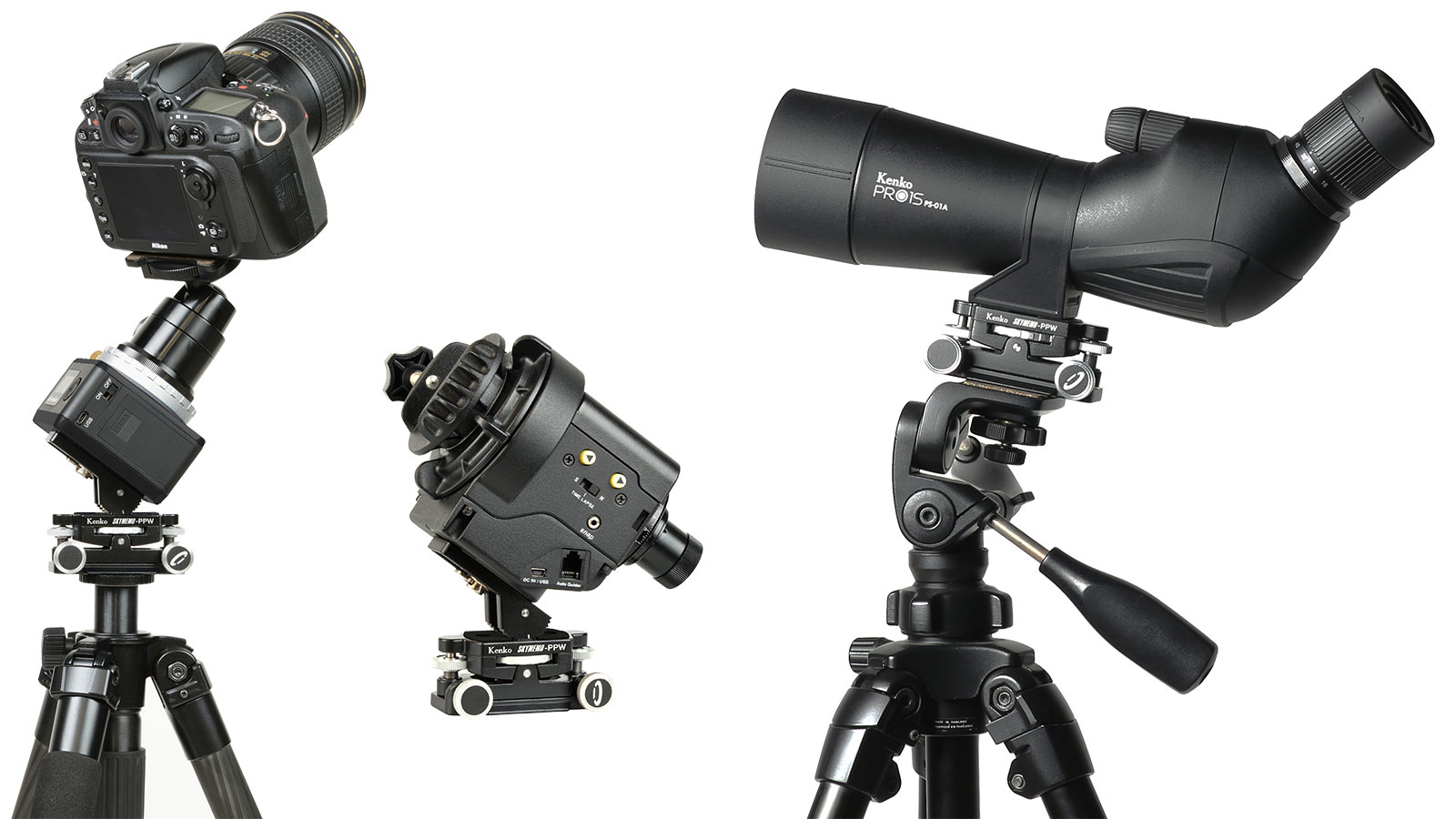 Removable altitude adjustment wedge included

Combine the included altitude adjustment wedges for a portable equatorial ridge. If you use the SKYMEMO Pinpoint Wedge without this altitude adjustment, it helps fine tune the composition of a close-up shot.

Mounting thumbscrews

Coin free thumbscrews for easy turning and fixing.

Arca-Swiss compatible shoe base

In addition to U1/4 camera screws, it can be attached directly to the Arca compatible shoe base.