Kenko SKYMEMO S portable tracking platform deserves a fully accessorized good ally to be the best combo for your astrophotography or star-scape shooting sessions.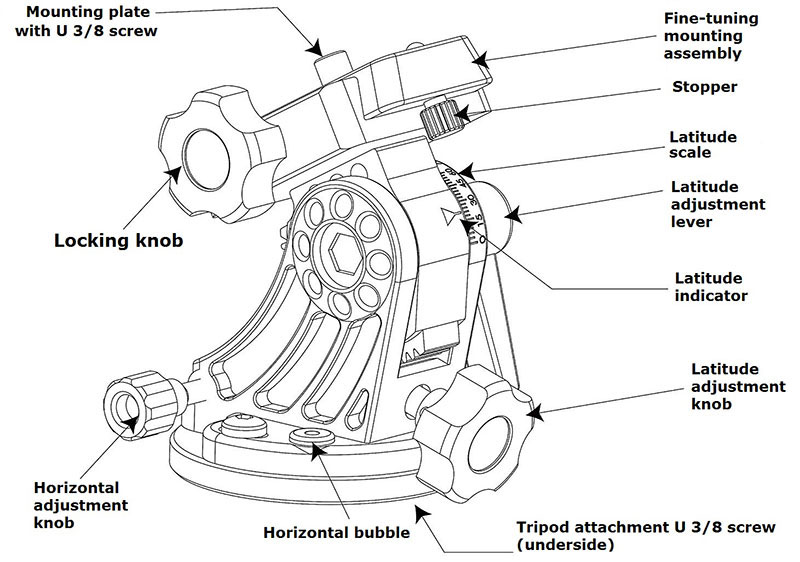 U3/8 screw – upper-side & down-side
Therefore, SKYMEMO S equatorial wedge is equipped with an U3/8 screw both on the upper-side and the down-side.
The upper-side screw allows you to directly attach your SKYMEMO S portable tracking platform, while the down-side screw can be attached to a tripod with no need of an extra pan-head.
It makes this mount the perfect interchange point for numerous combinations with all the accessories you may need.
Plenty of tools to track latitude
To fully support a tracking platform for astrophotography and star-scape photography, Kenko SKYMEMO S equatorial wedge has been also equipped with all the means to find the latitude values you are looking for.
By loosening the latitude adjustment knob, the wedge is free to move along the latitude scale, and once you have found your latitude grade, clearly indicated by the latitude indicator, you just have to turn the knob back to hold the latitude position.
The perfect horizontal base
Your latitude measurement tools also need a good base to be 100% accurate. That's why SKYMEMO S mount has also been equipped with a horizontal bubble to check if both the mount and the device you put on it are on an accurate horizontal position, and with a lever regulation mob to eventually adjust it.